Throw your scariest, most complicated, messiest dilemmas at us. Don't worry—we've got it. We were born and raised to raise some good hell and make a whole lot of great results for our clients.
We are committed to creating transformation for teams, leaders, and everyone in between because we know that a healthy organizational culture naturally leads to results. When employees and managers are given the tools to communicate and grow, that's exactly what they do—and your organization will thank you for it.
Instead of having disengaged employees slogging through the week, we can help your team feel fulfilled by their work and realize the importance of their contribution to the company. Coaching can shape the culture to create support for emerging leaders and space for realizing your company's vision.
We're here to be your guide in doing the real, hard work it takes to create meaningful change intentionally.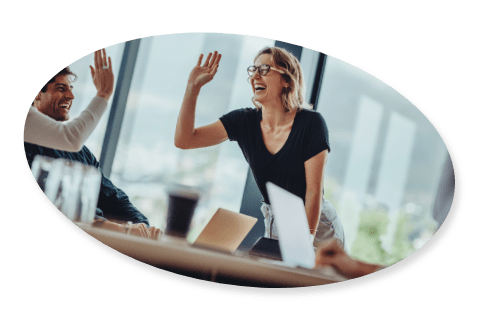 NANCY BENTHIEN, PCC
Managing Partner and Coach Provocateur
Nancy's focus is working with science, technology, and engineering companies to build cultures that thrive. She helps STEM organizations' leaders become better at leading, at breaking down organizational silos, at building cross-cultural competence in global teams, and improving team dynamics for effective performance.
She didn't get to this point by accident. Starting out with a career as a geoscientist, Nancy quickly realized that even with great enthusiasm for geology and technology, helping others reach for the stars in their own growth and development is a true calling and incredibly rewarding. Her career path moved from technical roles in geophysics and geology through software consulting, sales, product management, leading teams, and heading a business line at a large tech firm. Her success in these roles can be attributed to her willingness to take risks and reach outside her comfort zone.
True to her growth mindset, she continued her education. In 2013, she obtained a graduate-level coaching certification from Columbia University. Additionally, Nancy is certified in the Birkman personality/behavioral assessment, Culture in the Workplace (Hofstede model), CultureActive (Lewis Model), and the Neethling Brain Instrument (NBI).
JILL KNOCKE, PCC
Managing Partner and Leadership Development Badass 
Say yes. This is how Jill Knocke, PCC describes her professional career journey. When she said yes to her first Human Resources position; when she said yes to an International HR Manager role; when she went completely out of her comfort zone to lead a start-up medical device manufacturing line; when she supported the closure of an entire business unit that ultimately led her to use all the skills she'd gained along the way to realize her dream of becoming an entrepreneur. And most recently to accept a board position with the International Coach Federation Houston Chapter. Unexpected; and amazing!
What is the key thing she did to realize success? Say YES. Yes, to these unexpected, and fortuitous opportunities. Yes, and ask for help when she needed it. All the choices she made along the way to building a successful career in organizational effectiveness, coaching and leadership weren't always planned puzzle pieces but rather a mindset of self-assurance and the sheer motivation to accept a challenge. Having a team of support around her is critically important, not only to success but to overall engagement in life and work. Her motivation comes from collaboration, teamwork and a strong purpose to help others achieve success beyond what they believe is possible. Now she is motivated to continue stretching herself in all things related to organizational culture and helpings others be successful. Jill brings extensive experience as a leader in the field of Organizational Effectiveness, Talent Development, Coaching and Culture Transformation. Her unique blend of business acumen, coaching and pragmatism makes her a highly effective leader in a diverse range of areas.
Jill holds a Professional Coaching Certification (PCC) designation from the ICF (International Coach Federation), an accredited organizational culture consultant, a certified Birkman Method Consultant and Energy Leadership Master Practitioner (ELI-MP). She is also served as a 2018 Board Director for the Houston Chapter of the International Coaching Federation organization.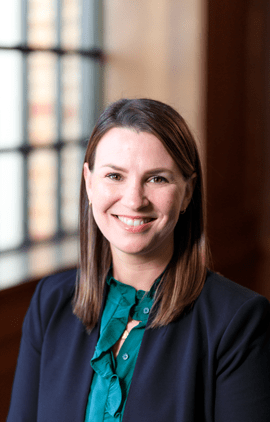 Elizabeth Garrett, PHR
Talent Development Strategist and People Enthusiast

Elizabeth Garrett is a Talent Development Practice Lead at Culture Innovations, LLC where she partners with leaders to focus on what matters most – helping people succeed, while fostering a culture of continuous learning and connection to purpose. Elizabeth knows from experience that when leaders put people first, performance will follow.
Her breadth of experience leading organizational talent management, change management and HR initiatives across the employee lifecycle, along with her depth of experience in business at some of Houston's top companies help her to bring strategic solutions with practical results. Combining experience with the C-suite, along with a professional growth path "through the ranks", she engages effectively at all levels. Elizabeth's perspective has been shaped by her place in a family of daring entrepreneurs. Scrappy at her core, she knows that magic happens when people stay curious and dream big.
Elizabeth has 15+ years of HR, talent management and change management experience within public and private sector businesses, including Fortune 500 and Forbes'-recognized companies, in addition to prior Director-level leadership experience for one of Houston Chronicle's "Top Workplaces". She is an MBA candidate through Rice University – Jones Graduate School of Business, holds a B.A. of Psychology with Honors from the University of Texas at San Antonio, and is currently pursuing a coaching certification through Rice University. Her certifications include: Professional in Human Resources (PHR), Korn Ferry Leadership Architect, The BirkmanTM Method, and the DISC Behavioral Assessment.